Last updated on December 22, 2019
The 69th Festival de Cannes will be presided by the Australian director, screenwriter and producer, George Miller.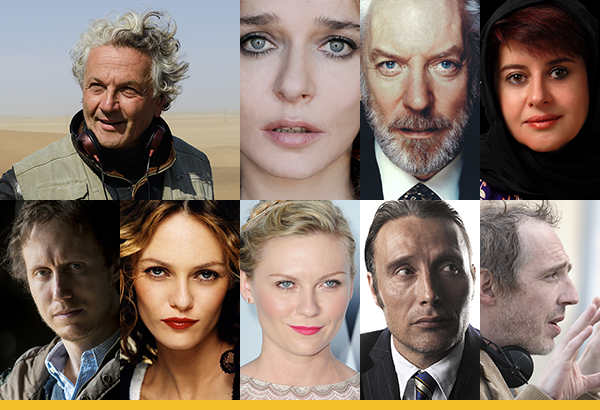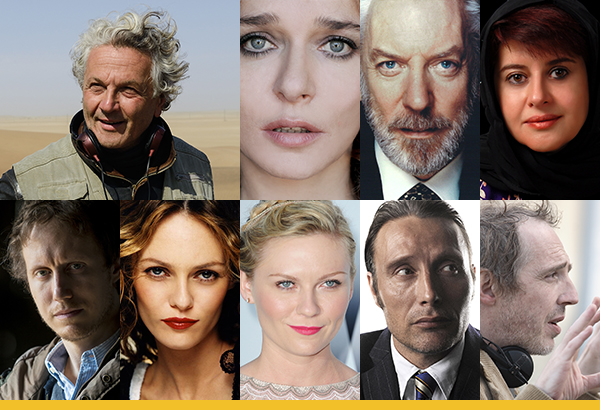 Cannes has always sought to adopt a universal and international approach, and in tune with this tradition, George Miller will be surrounded by eight luminaries of world cinema, from Iran, Denmark, United States, Italia, France, Canada and Hungary. The Jury will therefore include four women and four men around George Miller. Their task will be to decide between the 21 films in Competition in order to select the winners – to be announced on stage at the Closing Ceremony on Sunday 22nd May. The film awarded by the Palme d'or will be screened this same evening, in the presence of the Jury and the entire team of the winning film.
THE JURY
George MILLER – President
(Director, Writer, Producer – Australia)
Arnaud DESPLECHIN (Director, Writer – France)
Kirsten DUNST (Actress– United States)
Valeria GOLINO (Actress, Director, Writer, Producer – Italia)
Mads MIKKELSEN (Actor – Denmark)
László NEMES (Director, Writer – Hungaria)
Vanessa PARADIS (Actress, Singer – France)
Katayoon SHAHABI (Producer – Iran)
Donald SUTHERLAND (Actor – Canada)
Arnaud Desplechin, Director, Writer (France)
Arnaud Desplechin became an official competitor at Cannes with The Sentinel, his first feature film. He then made My Sex Life… or How I Got into an Argument, which introduced a new generation of actors. The artists in his films have regularly been awarded the most prestigious prizes, notably the 61st Festival de Cannes Prize for Catherine Deneuve in A Christmas Tale. In 2016, he won the César for Best Director for his film My Golden Days. He recently directed his first theatre play, August Strindberg's The Father at the Comédie-Française, to great acclaim.
Kirsten Dunst, actress (United States)
Kirsten Dunst made her breakthrough performance at the age of 11 in Interview with the Vampire by Neil Jordan earning her a Golden Globe nomination. She played in Sofia Coppola's independent film, Virgin Suicides, in theSpider-Man film series by Sam Raimi, Eternal Sunshine of the Spotless Mind by Michel Gondry, Marie Antoinetteby Sofia Coppola, On the Road by Walter Salles, Midnight Special by Jeff Nichols, and won the Best Actress Award at the 2011 Festival de Cannes for her performance in Lars von Trier's Melancholia. She received a Golden Globe nomination for her role on the FX miniseries Fargo. She can next be seen in Kate & Laura Mulleavy's Woodshock.
Valeria Golino, actress, director, producer, writer (Italy)
Early on in her career, Valeria Golino was awarded the Prize of Best Actress for her role in Francesco Maselli'sA Tale of Love at the Venice Film Festival and her career became international. She notably appeared in Barry Levinson's Rain Man (1988), Emanuele Crialese's Respiro (2002), Valeria Bruni Tedeschi's Actrices (2007) and Paolo Virzì's Human Capital (2013). In 2013, she directed her first film, Miele, screened at the Festival de Cannes in the Un Certain Regard selection, and received the Prize of the Ecumenical Jury. She recently appeared in Giuseppe M. Gaudino's Per Amor Vostro, which won her the Best Actress Award at the Venice Film Festival. She is currently working on directing her next feature-length film.
Mads Mikkelsen, actor (Denmark)
Mads Mikkelsen rose to fame as an actor in the Nicolas Winding Refn's Pusher film trilogy. He became widely known internationally for his role as the main antagonist Le Chiffre in the James Bond film, Casino Royale(2006). Other credits include Susanne Bier's After the Wedding (2006), Nikolaj Arcel's Royal Affair and his Festival de Cannes Best Actor Award-winning role in Thomas Vinterberg's The Hunt (2012), Arnaud Des Pallières's Michael Kohlhaas premiered in Cannes in Competition (2013). He will appear in Marvel's 2016 film,Doctor Strange, and Disney's 2016 Star Wars film, Rogue One: A Star Wars Story.
László Nemes, director, writer (Hungary)
László Nemes was born in Budapest, he became interested in filmmaking at an early age. After studying History, International Relations and Screenwriting, he worked as Béla Tarr's assistant during the filming of The Man from London. His 2015 debut feature film, Son of Saul, was screened in Competition at the 2015 Festival de Cannes, where it won the Grand Prix. He is the first Hungarian director whose film has won a Golden Globe for Best Foreign Language Film. His film, Son of Saul, is the second Hungarian film to win the Academy Award for Best Foreign Language Film.
Vanessa Paradis, Actress, Singer (France)
An actress and singer of great renown, Vanessa Paradis has pursued both careers internationally, be it recording albums, performing concerts or shooting films. She played notably in Girl on the Bridge by Patrice Leconte (1999), Heartbreaker by Pascal Chaumeil (2010), Café de Flore by Jean-Marc Vallée, Fading Gigolo by John Turturro. In music, she has notably collaborated with Serge Gainsbourg and Matthieu Chedid. Her most recent album, "Love Songs", won her a 2014 Victoire de la Musique award.
Katayoon Shahabi, producer (Iran)
She worked as a film promoter in Farabi Cinema Foundation (FCF), before establishing in 1994 her own company, Sheherazad Media International (SMI), the most important private company active in the worldwide distribution of features, documentaries and co-production with foreign companies. SMI has introduced films from acclaimed directors to the world. In 2012, she launched her company, Noori Pictures too, with which Tales by Rakhshan Banietemad and Wednesday, May 9 were awarded in Venice in 2014 and Nahid by Ida Panahandeh in Un Certain Regard 2015.
Donald Sutherland, actor (Canada)
He is one of the most respected, prolific and versatile actors, with over one hundred and fifty film credits, including such classics as Robert Aldrich's The Dirty Dozen, Robert Altman's M*A*S*H, (Palme d'or 1970) Robert Redford's Ordinary People, Bernardo Bertolucci's 1900, Alan J. Pakula's Klute, Federico Fellini's Fellini's Casanova, Oliver Stone's JFK and Joe Wright's Pride and Prejudice. Sutherland was 'President Snow' in the hugely popular The Hunger Games film series. Upcoming films include Milton's Secret and Measure of a Man.